Investment Committee Team
Our investment committee is made up of investment experts from 75Point3 and Dragon Investment Managers. Each member of our committee takes a proactive role in monitoring our investment proposition. They are committed to providing an ongoing formal review process and providing invaluable research and data to ensure our clients receive the best possible service.
Please click on images for individual biographies
Market Summary and Investment Committee Review
As we reflect on 2020, a year of extremes and contrasts: both within the investment markets, as well as the general economy.
The first six months of 2020 were characterized by world-wide lockdowns following the initial spread of COVID-19, followed by the fastest sell-off in history across many global risk markets.
The second half of the year – in stark contrast – saw a strong recovery in risk markets as investors looked past the pandemic and eyed the extreme fiscal and monetary measures put in place around the world as social and economic activity were curtailed.
During this time the investment committee has reviewed and monitored the performance of the portfolios and strategies, and it is pleasing to see after early drawdowns in 2020 the multi-asset range closes out the year in positive territory once again.
The diversification of assets around the world has also provided decent risk-adjusted returns, and the asset selection within the portfolios has outperformed broad benchmarks if we take a weighted sector average as the measure.
While equities provided the majority of gains in the second half of the year, fixed income continued to provide portfolios with a stabilizing force and attractive real returns as interested rate policies appear to be set to 'lower-for-longer'.
Looking ahead to 2021, while many hurdles remain in the path back to normality, and the economy has much healing left to do: the policy measures should provide a foundation for sectors most focused on economic activity to perform well as the world (eventually) re-opens.
December 2020 Performance
Three year performance to December 2020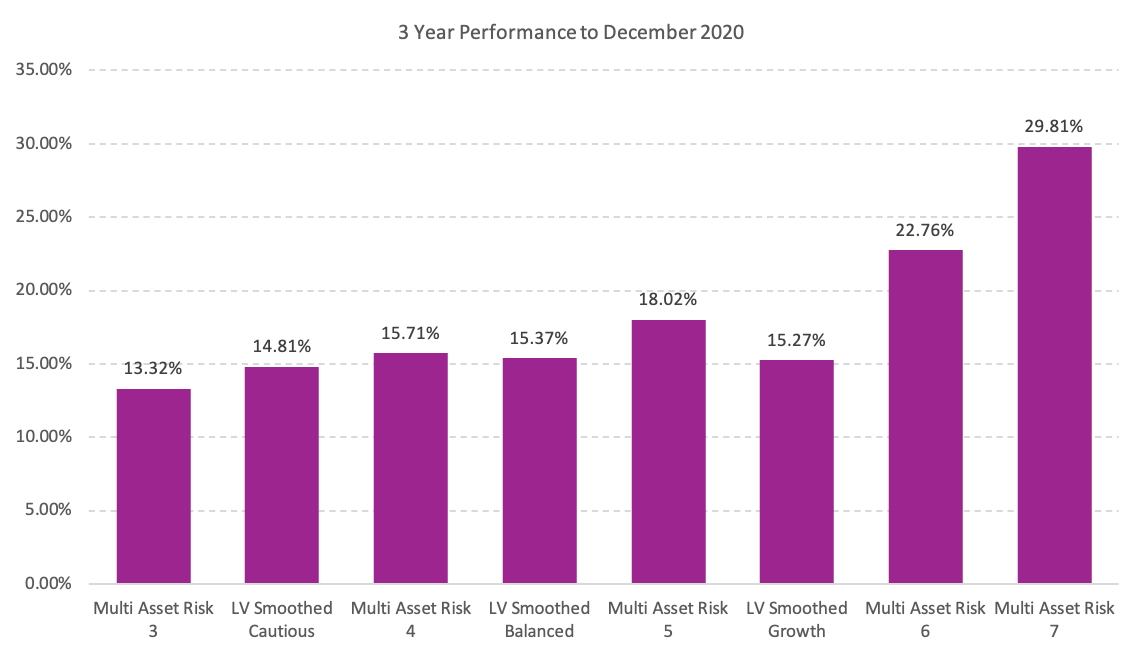 Diversification
Diversification is a risk management strategy that mixes a wide variety of investments within a portfolio. A diversified portfolio contains a mix of distinct asset types and investment vehicles in an attempt at limiting exposure to any single asset or risk.
Smoothed Funds
Smoothed funds are designed to provide long-term growth with a degree of investment risk but offering a smoother return profile than is generally available from other multi-asset funds.
Tightly Priced
A tight market refers to a trading environment in which the price difference between the best bid and offer is very small. Tight markets tend to occur in highly liquid, high-volume, blue-chip stocks where there are an abundance of buyers and sellers at all times.
Equity Market
An equity market is a market in which shares of companies are issued and traded, either through exchanges or over-the-counter markets. Also known as the stock market, it is one of the most vital areas of a market economy. It gives companies access to capital to grow their business, and investors a piece of ownership in a company with the potential to increase gains in their investment based on the company's future performance.
Emerging Market
An emerging market economy of a developing nation that is becoming more engaged with global markets as it grows. Countries classified as emerging market economies are those with some, but not all, of the characteristics of a developed market.
Fiscal Stimulus
Fiscal stimulus refers to policy measures undertaken by a government that typically reduce taxes or regulations in order to boost economic activity.
Technical Sell-Off
A technical sell-off occurs when a large volume of securities are sold in a short period of time. Due to the law of supply and demand, this causes a corresponding decline in the price of security.